The ClearBeam Acne Device
The Luminance RED - ClearBeam, a groundbreaking, FDA-cleared, class II medical device, is engineered to accelerate acne healing by 50% with just 3 straightforward steps. The secret to its effectiveness lies in the combination of blue and red light wavelengths, applied separately. First, the medically-optimized blue light goes to work, annihilating the bacteria within the pimple. Following up, the therapeutic red light steps in to accelerate your skin's healing process.
Immediate Results - 77% of pimples were either entirely healed or markedly improved within 24 hours or across 2 treatment sessions.
Don't be deceived by cheap imitations found on Amazon and their enticingly low prices. They simply don't deliver the power needed for effective healing. Tested in scientific studies and used by renowned medical institutions across the country, rest assured the ClearBeam provides superior clinical performance.
Entirely Pain-Free and Side Effect-Free

Pay only $87 every 2 weeks with 4 interest-free payments

Eligible for FSA and HSA Benefit Plans
6-Month Full Money-Back Guarantee
Free 2-Day Shipping
Money-Back Guarantee
Buy Now, Pay Later
3 Easy Steps: Prep, Clear, and Heal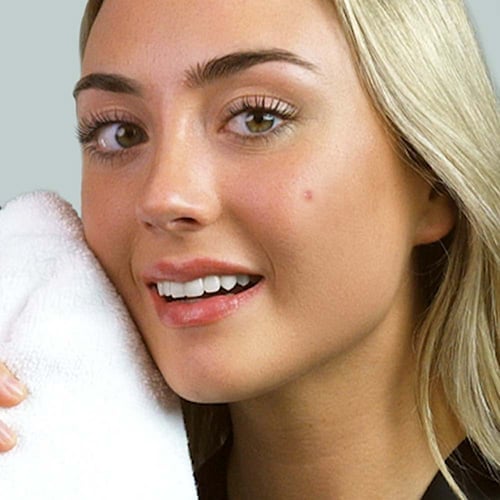 STEP 1
Prep
Begin with a clean and dry complexion to ensure optimal efficacy from your ClearBeam Device.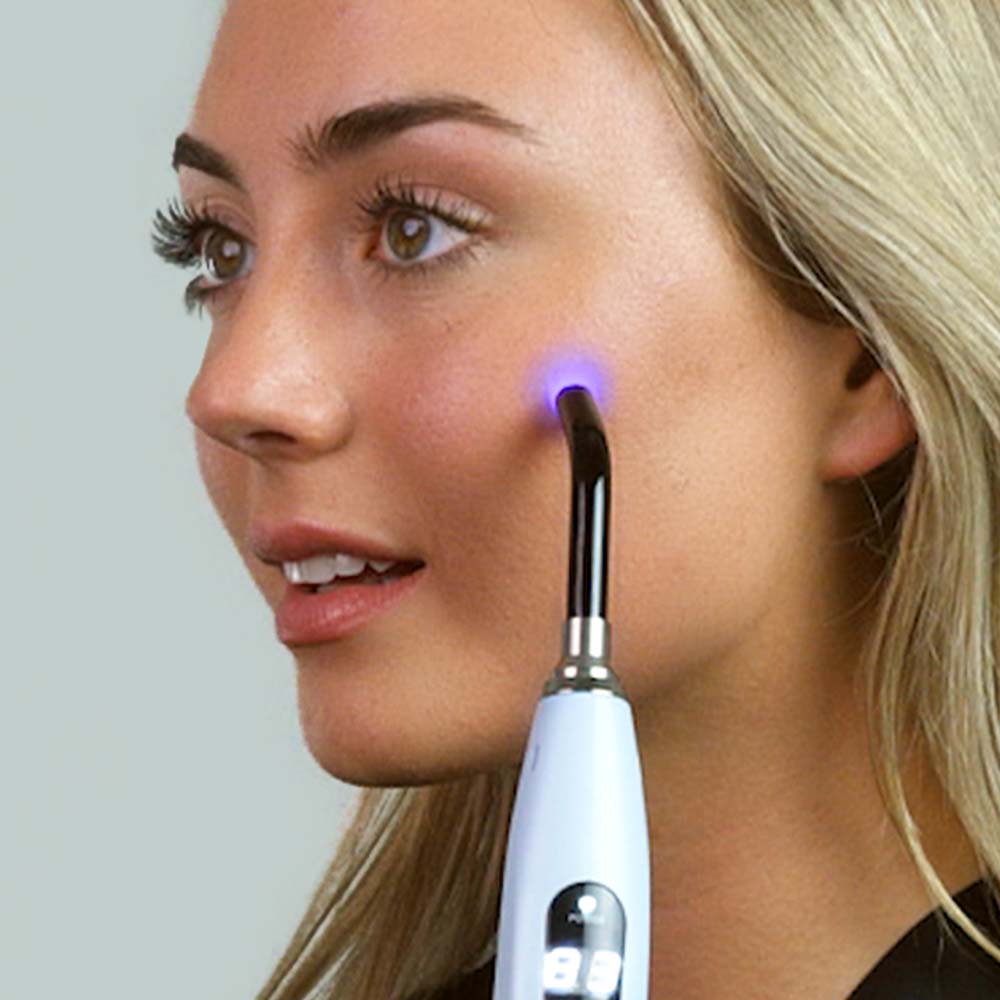 STEP 2
Clear
Deploy a 90-second session of medically-optimized blue light to target and neutralize bacteria within the blemish.
STEP 3
Heal
Help your skin heal faster with gentle, but powerful, dermatologist-approved red light.
Real People, Real Results
Luminance RED - ClearBeam Zit Device
Fiber Optic Light Guide - Tip
Charging Base
Power Cord
User Manual
For the best results, we recommend using the device 2 times per day, once when you wake up and once before you go to bed. You can find the complete User Guide here.
Medically-Optimized Wavelengths & High Power
The ClearBeam delivers medically optimized light wavelengths at high power, for optimal photomedicine results. Light with similar frequencies has been shown in scientific research to speed up the healing of acne outbreaks.
I wish I would have found this before I spend thousands of dollars of other acne products. None of them ever really helped to stop pimples from coming or helped them go away faster. This ClearBeam zit zapper is like MAGIC.
When I can tell a pimple is coming, I just zap the sucker with blue light then red light and it either stops it from forming or makes it go away in a few days. I used to have pimples lasts for a week plus before I started using this. Expensive but so worth it.
How Does It Work?
Photomedicine, or medically-optimized light treatments, have been tested in hundreds of peer-reviewed clinical studies, with overwhelmingly positive results, with little to no observed side effects. Learn more about the emerging research for sores and outbreaks.
I admit I was super skeptical. My dermatologist introduced me to light therapy but I don't have $1,000+ just laying around that it costs to buy a device.
Even though the ClearBeam isn't cheap either, after doing some research I begrudgingly paid the $349 and ordered off their website. It arrived 2 days later and in perfect timing as I could tell that I was just starting to get a pimple on my left cheek earlier that morning.
I was completely amazed that this device "zapped" my blemish completely away in 3 days!
After just using it 2 times the first day, I was already able to tell that it was getting smaller. I've never seen anything work like this before. I tell everyone it's my pimple eraser. Love it!
Perfect For Easy & Pain-Free Home Use
The ClearBeam is quick and easy to use in the privacy of your home. Treatments are painless and only take a few minutes. The device is sleek, ergonomic, and easily stored for discreet usage.
I've had cystic acne on my face since I was 14 years old. Not fun. I've used a bunch of over the counter products and a cycle of Accutane.
The Accutane helped reduce the number of outbreaks I get but didn't stop them completely and I still get a pimple every week or two which isn't cool now that I'm out of college.
The first time I used my ClearBeam I could feel it working and the zit was totally gone in 2 days. They say that the blue light penetrates the zit and kills bacteria inside then the red light treatment helps to heal it faster and I can definitely confirm it works. It feels good to know that even if I do have a zit pop up, I have the power to actually do something about it.
Can My Kids Use This Too?
Many peer-reviewed clinical studies have shown light therapy to be safe and efficacious for adults and children alike. However, if you have any concerns about using it with children, we recommend consulting with a healthcare professional. Please also note, all treatments with children should be done under adult supervision.
I got this for my 17 year old daughter who has been struggling with acne outbreaks throughout high school. They were mostly on her chin and cheeks and she would get really upset and embarrassed when they would come.
We had tried a few other devices but this is in a league of its own. You can tell its a professional device and MUCH more high powered than the others. Its also the only one that works and it can usually get rid a zit in a few days. There have been a few very deep ones that took closer to 5 days but that is still less than half the time they would usually take to heal.
My daughter won't even go on an overnight with her friends without taking her ClearBeam. It isn't a cheap product, but it is a lifelong solution that really works!
Our Skincare Devices are Supported by Clinical Science
We've invested in multiple clinical studies to quantify the impact of the Luminance RED - ClearBeam Zit Device.
Frequently Asked Questions
Many users report significant improvements within 24-48 hours. The device is engineered for quick and effective relief, supported by clinical studies that validate its efficacy in treating acne.
For optimal results, we recommend using your ClearBeam device twice daily—once in the morning and once before bed. Each treatment session consists of 90 seconds of blue light followed by 90 seconds of red light.

If you miss a session, don't worry; just ensure there's at least an 8-hour gap between treatments.
Luminance RED - ClearBeam stands out with its FDA clearance, clinical backing, and specific wavelengths optimized for acne treatment. Trusted by doctors and leading hospitals like St. Jude and Texas Children's, it's a medically-proven device you can rely on. "Patients improved significantly during the study," says Dr. Leo Wang, MD, PhD, a leading dermatologist.
Unlike traditional acne treatments that can be harsh on the skin, ClearBeam offers a natural, drug and chemical-free alternative that many users find more effective and faster-acting. It addresses the root cause of acne, not just the symptoms.
Yes! The ClearBeam is HSA/FSA eligible, making it a cost-effective investment in a clinically-backed solution for acne treatment.
The device is lightweight and user-friendly, designed for convenience whether you're at home or on the go. It comes with a simple interface and easy-to-follow instructions, making it ideal for daily use.
The ClearBeam is a safe, natural treatment with zero reported side effects. It offers a worry-free alternative to chemical-based treatments, making it ideal for long-term use.
The device should be in direct contact with the skin during treatment to ensure optimal delivery of the medically-optimized wavelengths of light.
For preventative measures, we recommend using the device twice daily on areas prone to acne. Consistent use can significantly reduce the frequency of outbreaks.
While the device is generally considered safe, we recommend consulting a healthcare professional for children's use and ensuring adult supervision during treatment.
Considering the long-term benefits and the money saved on recurring purchases of creams and medications, many users find the ClearBeam to be a cost-effective solution.
While the device is generally considered safe, we recommend consulting your healthcare provider if you're pregnant to ensure it's the right choice for you.
Yes, many users have successfully combined treatment with the ClearBeam with other acne treatments for enhanced results. It's a versatile addition to your skincare regimen. Always consult your healthcare provider before combining treatments.
Yes, we offer a 6-month money-back guarantee. We're confident in the effectiveness of the ClearBeam and want you to be completely satisfied with your purchase. Read more about the policy here.